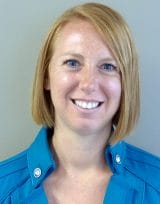 By Kathleen Ganster
Moving into a new home is exciting for any one and the folks at the Blind & Vision Rehabilitation Services (BVRS) are especially excited about theirs. 
"We will have everything under one roof and on a bus line – those two issues are huge for us," Erika Arbogast, president, said. 
BVRS has served the community since 1904 and helps individuals who have lost their vision and other disabilities to lead independent lives, according to Arbogast. 
"And that might mean learning how to cook, clean, just even learning to match their socks again," she said. 
Until now, BVRS has had two locations – one in Homestead and a temporary home in the Strip District of Pittsburgh.  Next year, though, they will move into their new location at 1816 Locust Street, a move that Arbogast thought might never happen. 
BVRS began looking for a new home a few years ago when they realized several problems with their current locations. For one thing, they didn't own their one building and actually had to move from that location after their building was sold. Their Homestead location isn't convenient to other services and with cutbacks in bus services in Pittsburgh, their consumers had difficulty with transportation. 
"Our population is one that has to rely on public transportation – they don't have a choice. And that was one of the number one issues when we were looking for a new location, it had to be on public transportation. That was non-negotiable," she said. 
Since some of their own employees are visually handicapped, public transportation is also a necessity for them. 
But as the staff and board members of BVRS started searching for a new location, they were coming up empty. 
"We looked at so many buildings and just couldn't find the right one. We were really getting discouraged," Arbogast said.
Then they found the location on Locust Street. 
"It was like the movies – when all of the sudden everything lights up and you hear music.  I said, "This is the building!'" she laughed. 
BVRS closed on their new home on March 28th and soon after, work started on the 87,000 square foot building. Since the building had served as a warehouse, the space was fairly open space, so they didn't have to tear down old walls, a real plus for the designers and construction team. 
The new location is a "very old building," Arbogast said, known for its sound foundation and construction. 
"I've been told that if a bomb goes off, that is where you want to be. It is that well-built," she said.   
When completed, the BVRS center will include a 5,000 square foot rooftop garden, something that has Arbogast very excited. 
"Our rooftop has one of the most beautiful views in the city. It will be a wonderful place to sit and relax, to garden, for our consumers to garden and very important, for guide dogs to be able to go to the bathroom," she said. 
Since many consumers and staff of BVRS have guide dogs, it is extremely important for the dogs to be able to relieve themselves in a safe and sanitary method, something the new garden will supply. 
The garden is thanks to a $200,000 grant from Allegheny County. 
The new location will also house the fitness center which will be moved from the Homestead location and 10 residential living units, with two apartments. 
"We teach independence and this will allow us to have the resources do that while also allowing our consumers to have their own rooms with their own bathrooms and TVs. This is just so important," she said. 
The new location will also house the BVRS employees who make products through their industries program, a new technology wing, and their low vision optometrist.
"It also allows us to have our logo in a prominent place in town where many more people will see it. This will do more for our outreach than anything else – if people don't know we exist, it doesn't matter what we do," she said. 
BVRS hopes to move into their home by late next spring. 
For more information about Blind & Vision Rehabilitation Services, visit www.bvrspittsburgh.org/ or 412-368-4000.