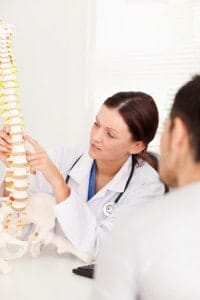 Compared to the U.K., Canada and Australia, the United States has the highest rates of spinal cord injuries and paralyses, according to the spinal cord injury and awareness site Apparelyzed. An estimated 275,000 Americans live with a spinal cord injury, and an average of 12,000 people become paralyzed every year. Patients with spinal cord injuries or spinal conditions should know about the rapid technological advancements that can reduce their pain and enhance their lives.
Laser Spine Surgery
Patients with a lower level of injury such as a bone spur, herniated disk, pinched nerve or bulging disk may be good candidates for laser-based or laser-assisted spine surgery, Laser Spine Institute reports. Using a less-than-1-inch incision, surgeons perform this outpatient procedure as an alternative to open neck or back surgery. Patients who do the recommended postsurgical exercises have the best chances of regaining and maintaining a strong and healthy spine.
Spinal Cord Stimulation
Spinal cord stimulation (SCS) has been a standard pain-relieving solution for more than 20 years, and SCS patients have reported a 50 to 70 percent reduction in pain, according to Spine-Health.com. Neurostimulation delivers an electrical current to the pain source and creates a pleasure sensation, blocking how the brain senses pain. Electrical stimulation therapy also includes peripheral nerve field stimulation (PNFS), the process of emitting electrical currents to the spinal column by placing electrical leads under the skin. Many of these patients can decrease how much pain medication they take (or stop completely) and return to everyday activities.
Stem Cell Therapy
Spinal cord trauma, such as the type caused by a car accident or sports incident, can leave an individual with more devastating consequences than chronic pain. Science Daily reported on a scientific survey that found stem cell therapy can improve sensory and motor outcomes in animals. Stem cell therapy involves using special regenerative cells (stem cells) to repopulate damaged areas and restore healthy function. According to the Public Library of Science journal Biology, stem cell therapy provides a statistically significant improvement in the animals' ability to both move and feel things beyond the spinal injury site.
Mobility Technologies
Kyle Pearson, a paraplegic patient who broke his back and 10 ribs during a skiing accident, told the Denver Post he is focused on progression goals for recovery. His goals include moving from a wheelchair to two crutches, two crutches to one, and then walking with two canes to one cane. To help him reach his goals and walk again, Pearson is undergoing locomotor training (LT), a rehabilitation strategy designed to improve mobility independence and muscle movement for spinal cord-injured patients. LT is based on knowledge about how the brain and spinal cord can rewire after injury to control stepping, as well as how the nervous system learns a motor skill, according to the Christopher & Dana Reeve Foundation.
AMES Device
Last summer, AMES Technology received FDA approval for its AMES device (Assisted Movement with Enhanced Sensation). The rehabilitative device works by running a patient's arm through repetitive movements and vibrating muscles involved in the specific movement, Med Gadget reports. Sensors can provide the movement's strength measurement and displayed real-time readings monitor progress. The technology may help the brain rebuild connections by triggering muscle sensation and moving affected limbs.
Additional Technologies
As technologies continue to evolve, spinal cord-injured patients continue to gain independence and lead healthier lives. These technological advancements are also improving their quality of life:
Exoskeletons and mechanized walking aids
Lighter and smarter wheelchairs with more versatility and the possibility of voice commands
Chip implants with a brain-computer interface to move limbs controlled by thought
Smartphone apps assisting with locomotor exercises