When you or a loved one are showing symptoms of an illness, it is crucial to go to a trusted medical facility immediately. The sooner the illness is diagnosed and treated, the better. However, hospital-acquired infections are also a threat to patients all over the world. Healthcare-associated diseases can be controlled with the help of a professional cleaning company.
Healthcare-associated infections (HAIs) can be reduced by employing a reputable company specializing in cleaning and sanitizing medical facilities. These medical and healthcare facilities include hospitals, clinics, surgical centers, rehabilitation facilities, and nursing homes. Patients, as well as healthcare workers, are susceptible to infections and illnesses if hazardous and contaminated waste are not disinfected or disposed of properly.
Why Hire a Medical Facility Cleaning Company
Medical facilities have special cleaning requirements that other businesses do not encounter daily. This is the reason why healthcare facilities should look for a company that performs more than just regular cleaning services. A professional and reputable Detroit medical facility cleaning company does so much more than maintain a clean environment. These are the four key benefits of hiring a medical facility cleaning company:
1. Boosts the Image of the Healthcare Facility
The clean and well-maintained surroundings of a medical facility are sure to impress patients and visitors. Medical staff, on the other hand, will be proud to work in a company that values cleanliness. Professional cleaning and sanitation services will help ensure the cleanliness of the entire facility – from your reception area, waiting for area, examination rooms, bathrooms, operating rooms, and laboratories.
Medical facility cleaning companies are experts in handling different kinds of healthcare facilities and understand what is expected of them as a service provider. A healthcare institution that employs a highly-trained medical cleaning firm exudes professionalism and concern for others.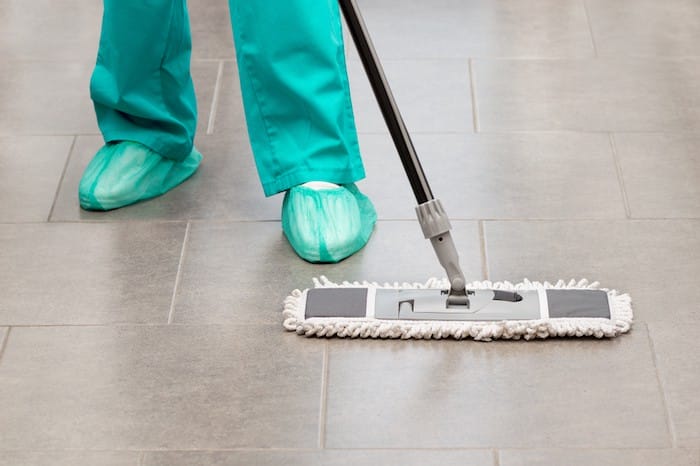 2. Ensures the Health Facility is Safe for Everyone
Whether some visits a hospital, a dental clinic, or a nursing home, he or she wants to feel safe and protected. It is a must, therefore, for every kind of medical facility to hire the janitorial services of a medical facility cleaning company. The staff of a medical facility cleaning services provider is trained and well-equipped with the skills and knowledge to ensure that the medical office or institution is free from allergens like dust and pollen. They are experts in disinfecting germs, bacteria, and fungi from every part of your facility.
Professional medical facility cleaning companies use effective techniques to improve air quality and prevent contamination caused by different kinds of pathogens. When your healthcare facility utilizes the services of a reputable medical office cleaning firm, it shows that you care about the patients and the employees.
3. Increases the Revenue of the Medical Facility
People nowadays are aware that infections can be acquired just about anywhere. They avoid healthcare institutions with negative feedback from patients and visitors. When they visit your medical facility, they will scrutinize the cleanliness of the surroundings and the equipment.
Positive feedback will easily reach other people through word-of-mouth. Thus, if you are confident about running a clean and safe medical facility, you can generate new customers and retain your old ones, too. You increase the company's bottom line by making cleanliness one of your top priorities.
4. Saves the Company Time and Money
Although some may say that hiring professional cleaners adds to a company's operating expenses, it's the other way around. If you employ a licensed medical facility cleaning crew to maintain the cleanliness of the surroundings, your employees can focus on doing what they do best. Aside from the fact that cleaning the healthcare facility will prevent your staff from performing their primary duties, you cannot expect them to clean as efficiently as a professional service provider would.
Cleaning a healthcare facility is not as easy as tidying up a regular office. The skills and expertise of medical facility cleaning professionals are required to ensure that the establishment is always safe for patients and visitors. Getting a professional healthcare facility cleaning agency not only saves you time, but it also lets you save money by making sure employees and patients do not get ill because of healthcare-acquired infections.
Conclusion
Medical facility cleaning services are essential partners in the upkeep of all healthcare facilities. It is important to note, too, that proper hygiene is the first step in the prevention of infectious diseases. Patients and medical practitioners, however, should also be vigilant in taking care of their health after visiting or working at a medical institution. Awareness and action can help reduce the number of illnesses and deaths caused by healthcare-associated infections.
Throughout the year, our writers feature fresh, in-depth, and relevant information for our audience of 40,000+ healthcare leaders and professionals. As a healthcare business publication, we cover and cherish our relationship with the entire health care industry including administrators, nurses, physicians, physical therapists, pharmacists, and more. We cover a broad spectrum from hospitals to medical offices to outpatient services to eye surgery centers to university settings. We focus on rehabilitation, nursing homes, home care, hospice as well as men's health, women's heath, and pediatrics.